Good Day to all. This is my first ownership review on this forum (or any other forum for that matter). Whilst I take all precautions to maintain this post as per the forum's rules & requirements, would request you to pardon me if I have got diverted.
This post consists of four parts.
1. Shortlisting and Booking Experience
2. Delivery Experience
3. Bike's review
4. Ownership experience
Let's get going.
1. Booking Experience
A little bit of History
Me, been and being a biker and traveller at heart, buying a bike for my long trips has always been my dream.
Way back in 2009, I bought my first bike (Hero Honda Splendor) for my commuting needs. Splendor being a 100cc bike, travelling long distances was ruled out. Nothing much to write home about the bike as I was using that for my day-to-day commuting only.
Fast forward to 2012, settled with two kids and me settled on the job as well after completing all my onshore travels, decided to give long-distance touring a try. Royal Enfield Bullet was my dream bike at that time and I went ahead and booked an Electra 350 with an on-road price of Rs. 1,35,000 with Legend Motors in Sanatorium, Chennai. The waiting period was close to 60 days I guess (pardon my memory). Just like every newbie who booked his dream bike, I too was sceptical as to how I am gonna contain my excitement and wait for 60 days. I hate waiting. That's the truth.
A couple of REM sleep nights went by and after a week or so, I got a call from the dealer stating that there was a cancellation of someone's booking and since I booked the same variant and colour (Red), they asked me if I can process the loan and get this bike allocated to me. And I said YES. Two days went by for loan processing and I got my bike delivered in a week.
Even though the waiting period was close to 90 days, I got my bike allocated in 10 days. The bike got delivered post-registration in 4 days and I brought it back home. A couple of weeks went by and I was waiting for the first service (500 kms or 1 month) to be completed before I could make it stretch its wings.
I used that bike for my daily commute (24 kms to and fro) and was able to get it to its first service in two weeks. Service was good and delivered on time.
It was pretty much okay when I used it for commuting inside the city limits as I did not cross more than 50 kmph speed. It was when I took it for long-distance travel of around 60 kilometres, one way from Tambaram to Ponneri that I came to know that the bike was not able to contain speeds of more than 80 kilometres per hour without vibrations. The vibrations are so intense that I could feel them on the handlebar and were unable to see anything in the rearview mirror as it was vibrating as well. For the first time, I regret taking a wrong decision when it comes to bikes and of-course, Royal Enfield.
Post that vibration episode I did not take the bike to any sort of long-distance rides. I did not use bike much except for occasional city commutes which were fine and after one year I decided to sell the bike. One of my friends bought it from me and he's been using it since then.
Fast forward to 2020 January the idea of long-distance travel again cropped up on my mind. It was well before we even knew that a thing called COVID existed. I started looking for a good bike and definitely not Royal Enfield as I had bitter experience in the past.
My requirements were very simple:
Seat Height that's comfortable for my height (165 cms).
Vibrations – as less as possible
High-speed stability
Dual Channel ABS as standard
Engine capacity more than 250 cc
Long distance touring comfort
Below are the choices I considered
Mahindra Mojo
Does Mahindra sell bikes?
KTM Duke 390
What I liked
1. Engine power like no other
2. High speeds without any vibrations (Top Speed of 174 I did on ORR)
3. Any Bajaj service centre can handle repairs across India
What I did not like
1. Seat height – I was unable to place my feet flat on the ground
2. Pricey than its rivals
3. Lots if Gizmos
Kawasaki Z650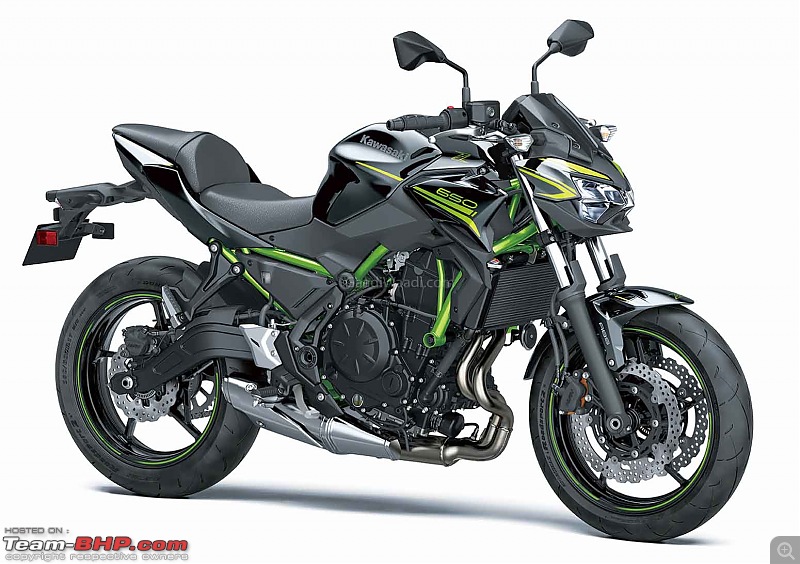 Went and saw the bike in Chennai Showroom and there were no bikes available for a test ride then and the showroom executive said that you have to buy the bike test ride it. I was not ready to spend almost 6.5 lakhs on that bike without doing a test ride so I was waiting for an opportunity to go to Bangalore test ride it before I buy. the showroom did offer me a BS-IV discount of almost Rs. 84,000.
What I liked
1. Stunning wicked looks
2. Powerful Motor
3. Seat height
4. Oozing Japanese quality
5. Corner craving naked beauty
What I did not like
1. Nothing (Mind over Brain I guess)

BMW G310GS
What I liked
1. Perfect looking adventure tourer
2. Came with a factory-fitted pillion luggage rack
3. Solid German build
4. Confidence-inspiring High-speed stability
What I did not like
1. Engine was not smooth.
2. Headlight Wobbling
3. Seat height
4. All brand accessories were too costly.
Benelli TRK 502
What I liked
1. Perfect looking adventure tourer
2. Confidence-inspiring High-speed stability
3. Huge discounts offered on BS-IV model.
4. Powerful Engine
What I did not like
1. Too heavy – 245 kgs
2. Availability of service centres – only in large cities.
3. Costly parts and servicing
Just as I was struggling with the selection and my inclination was towards BMW G310GS, lockdown kicked in and the idea of me buying a bike is put on hold. Even if I buy the bike now, I would not be able to take it out for long rides and also it made a financial sense to hold onto your money before you spend it on any depreciating assets.
Fast forward to October 2020 I saw some spy images of Royal Enfield Meteor 350 being tested and I was both sceptical and expecting that Royal Enfield will make drastic changes to the newer models. I like the bike's overall silhouette and I thought why not wait for a month, give it a try and probably book it if I like it. The bike was scheduled to be introduced on November 6th.
Come November 7th, a day after it was introduced, I went to the legend Motors showroom in Sanatorium to test ride the bike. I met with the sales executive Mr Seethapathi and he explained to me the available variants and the booking formalities in greater detail along with the price. I took a test ride along with my kids and to my astonishment, it matched my requirements. Frankly, I did not feel that I am riding a Royal Enfield.
The bike was available in three variants and below are the available features.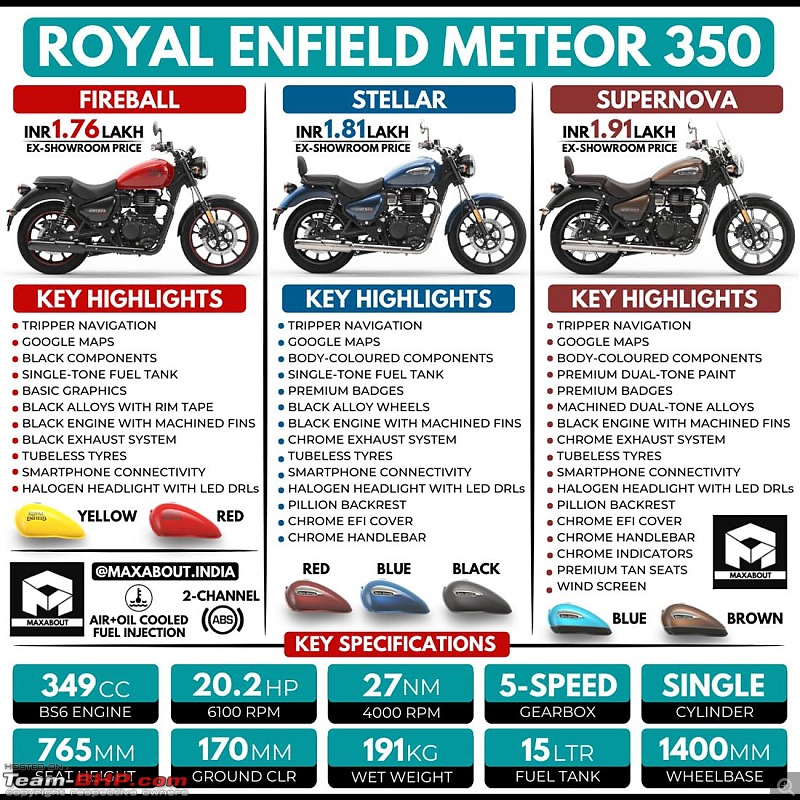 Pic courtesy : Maxabout
What I liked:
1. Refined engine. Bike is Smooth to ride.
2. Seat height of 765 mm and optional accessory (Touring Seat) with 745 mm.
3. Absolutely 'Nil' vibrations in the 80-100 range.
4. Straight up riding posture.
5. Power available on almost the entire rev range.
6. Switchgear reminds you of the by-gone era.
7. Unlimited customisation options
8. Wider handlebar translates to lesser turning radius.
9. Quicker than Classic 350 and Thunderbird
What I did not like:
1. Fuel tank capacity reduced to 15 lts
2. Liberal use of plastics – not so premium. Even the fuel tank cap is made of cheaper plastic. Won't last long by the looks of it.
3. Brand new engine and platform – Long term reliability remains to be proven.
Post the test ride, Me and my kids liked the bike and I told the exec that I will come back on 8th Nov with my wife and will decide finally. I want her to see as to how much is the pillion comfort and to take her feedback as well.
I and my wife went on 8th of November to do a second test drive and as soon as I sat on the bike and put my foot down flat on the ground, my wife was all smiley face indicating that she liked it. She is very much specific about safety and she strongly believes that, for me to "go anywhere", a shorter bike is safer than a taller bike.
P. S – Wife is always right.
Since both of us liked the bike, we went ahead and booked it by paying an advance of ₹10,000. After some discussions, we selected below.
Variant : Supernova
Color : Brown
Factory Fitted Accessories: Touring Seats (745mm version), Windshield
Additional Accessories: Touring Mirror (I liked the design), Engine Guard – Black
Standard Warranty: 3-year 30,000 kms with 1-year roadside assistance (Fuel – Twice per year – 5 lts – No Labor/service charges), Breakdown assistance – The company will co-ordinate with the nearest service centre, Puncture assistance)
Extended Warranty : YES – 4th & 5th year – 20,000 kms + Roadside assistance. As per the sales exec, if we take the extended warranty, RSA will be covered for the entire 5 years.
The bike can be "Customised" as part of the "Make it Yours" program.
Make it Yours (MIY) Program
With this bike, Royal Enfield is introducing a "Make It Yours" program where you have a wide variety of options to choose from and customise your bike. It includes Accessories, colours, safety features and others. This program gives you a feeling that your bike is 'unique' and no two bikes are the same. Royal Enfield says that close to 5 lakh combinations are possible. Royal Enfield wanted to give its customers a unique experience right from the time of booking itself and you could say that its a job well done.
Make It Yourself program (MIY) consists of the following from which you can choose your options.
15 Basic paint colours
4 Rider's seat
4 Pillion seat
2 Backrest
1 Personalized badge featuring the name you choose
3 Emblems
4 Decals
3 Tape rims
2 Flyscreens
2 Side boxes
8 Engine guards
1 Sump guard
2 Footpegs
2 Bar-end mirrors
8 Silencers – Legal and Approved
The sales executive went to the Royal Enfield website and he selected the Variant, Colour, seat (765mm / 745mm), crash guard etc. I was told that booking amount is non-refundable because this is a customised bike. This program also lets you have a personalized badge with a name (Yours, Bike's or any other name – I selected our Family Name "R M G Y" which is derived by collating the first letter of each of our names), giving you a more personalized feeling.
The booking experience was good I was able to select and view the bike with all the optional extras that I selected.
You can access the MIY website here
Optional Extras Selected

The software is equipped enough to render your bike exactly with all the customisations & accessories that you selected. Here is my bike's final customised version.

Below is the final estimate with all accessories added.
November month being my birthday month and I thought I could get my bike delivered as my birthday gift but the sales executive told that it would not be possible for the showroom to deliver the bikes on or before the 29th of November because there's a Diwali long weekend coming up. So I have to wait for another 30 days impatiently for my bike to come home. I also requested for a registration number to be selected by myself. I will be paying that extra amount (Rs. 3,500 approx including agent commission) to block the number accordingly.
2. Delivery Experience
Woke up on 19th Nov morning with this message confirming that the bike has reached the dealer and I was asked to pay the downpayment.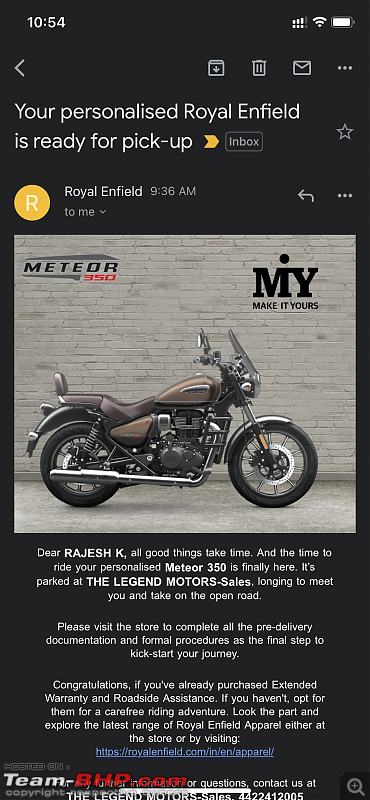 I had already processed my loan with HDFC and got it approved. All they have to do is to release the payment. I spoke to my banker and they said that if they release the funds before 20th Nov, EMI will hit the account on Dec 1st week. If they release the payment after 20th, EMI will hit the account by Jan 1st week. I asked them to process after 20th.
W.r.t the registration number selection, they asked me to choose 4-5 numbers between 3500 and 4500. I gave them my choices and came back home waiting for the funds to be credited. Tentative date of delivery is on Wednesday (25th Nov).
The D-Day came and so did the cyclone "Nivar". All offices were closed and the dealer could not send the bike for registration.
26th Nov – Holiday on account of Cyclone
27th Nov – RTO could not function as it was waterlogged
30th Nov – Server Issues
1st Dec – Dealer delayed paperwork and hence could not be registered.
2nd Dec – Finally the vehicle was sent for registration. The agent called me from RTO office to select the number for my bike and I selected '4500' from the list of options available (No Numerology here. Just wanted a fancy number).
Went and took delivery of the bike at around 5:30 PM and it was drizzling and couldn't take many pictures.
Yours truly getting the key from Wifey

Parting shot for the delivery event.
3. Bike's review
Is there a recipe for creating a new successful bike model? Maybe. Take an existing successful model, list down all its pros and cons, retain the pros, work on the cons to convert it into a pro, test it extensively and introduce it into the market. There you go. You got a winner on your hands. Royal Enfield has done just that with the new Meteor 350. They have taken the Thunderbird 350 as a standard, retained its USPs, solved all its issues (well, almost) and made it into a surprising package that's a winner.
Are they successful? Looks like they are. The curiosity that it generated, feedback that it received from various quarters, its prospective customers and reviewers alike all points to a grand successful entry. This is not only a new motorcycle. The entire platform is new as well. Instead of taking a high-risk route of building a new model from scratch and introducing it into the market, Royal Enfield has taken the time tested way of bringing a new model that can be related to and similar to an existing model.
650 twins were the first world-class product by RE in terms of design, engineering and manufacturing and this might be their second one. This motorcycle comes from an entirely brand new "J Platform". Every single component is new and built ground up.
Royal Enfield cannot use the name Thunderbird in overseas markets as there is an already existing model with the same name from Triumph Motors. The name Meteor is derived from a line of motorcycles that RE sold in 1953 called Super Meteor which is a 692 CC, Overhead Valve, Twin Cylinder model. The Super Meteor was later replaced by the Interceptor in 1962.
Design
This motorcycle is designed by RE team in India and England. Future iterations of existing classic 350 models and all other upcoming new models will be based on this platform only. IMHO, RE has done it right the first time and the results, as I see for the future iterations/models, are promising.
The design of this motorcycle might look familiar and similar to Thunderbird to some whereas, for me, it resembles a Harley. In a clear departure from earlier design elements by Royal Enfield. This motorcycle sheds Chrome on the front and rear mudguard, battery case and uses good quality plastics. While this helps in weight reduction, the bike does not feel that premium to look and feel IMHO.
This will be a global model and it will be sold in Asia Europe and North America.
Quality
Quality is top-notch. Fit and finish are good overall. Lots of Chrome in earlier models have been replaced by plastics. Plastics help in weight reduction to a greater extent. The two mudguards, fuel tank cap, which we use on a daily basis are made of plastic now. Whilst I accept the plastic mudguard, fuel tank cap, the one we use on a daily basis, is also made of plastic now. This might be a problem and it can break faster on continuous usage. I expected Royal Enfield to have provided a metal fuel tank cap just like in the other Royal Enfield models. I understand the necessity for cost-cutting, but hey, how much it's gonna cost in providing a metallic fuel tank cap?
Sound:
Does it sound like a proper RE? Yes. It's got a throaty note to it with more bass than the existing models. Now, Its a single note and that too with a good meaty thump.
Engine, Gearbox & Performance
The brand new 350 CC engine replaces the existing UCE engine that was available with the Thunderbird Twins and the classic 350. It is far better than the engine it replaces. It still uses a 2 valve head but the old pushrod system is being replaced by a single overhead camshaft. Engine capacity has been increased from 346 CC 2 349 CC.
The engine now makes 20.4 ps of power @ 6100 rpm, 0.4 Hp more than the old UCE engine and 27 nm of torque @ 4000 rpm, 1 nm less than the UCE engine.
Engine – Right Side View. Also, Kickstarter is conspicuous by its absence.

Engine – Left Side View

Engine Classification J1349 – J Series – Engine Number 1 – 349 CC

Though the engine is air-cooled, RE included an internal oil cooling circuit as well. As per Re, this is an Air+oil cooled engine. In the real world, this translates to the longer-range without the engine getting heated up abnormally.
Air Cooled Engine with fins provided in the silencer as well. This is to maintain uninterrupted flow of air.

Closer look at the cooling fins – Contrast Coloured

It doesn't mean that the bike is completely free of vibrations. You could feel the vibrations at a very minimal levels when you cross 90 kph. Even at 120 kph, the maximum possible speed, the engine vibrations are bearable. Also, vibrations are contained to a considerable extent on the mirrors as well.
The gearbox is smooth & slick with shorter throws and it feels softer when we're changing the gears. False neutral exists when you are changing gears in the city traffic. The clutch feels a bit heavy but confidence-inspiring. It doesn't feel too stressful when you're driving through that hot city traffic.
Below are the max speed at the respective gears
1st – 50 kph
2nd – 75 kph
3rd – 100 kph
4th – 110 kph
5th – 120 kph
Excellent Roll-on acceleration of 40-80 kph in 4th gear and 50-120 in 5th gear. You won't have to downshift in city traffic if you are above 30kph in the third gear. You can go from 40 to 100 in 4th gear and the bike has enough juice to take you there without upshift / downshifts.
80 kph – 110 kph is the average cruising speed and vibrations are significantly lower up to 110 kph which is the sweet spot for cruising in this motorcycle. Comparing to Classic 350 and Thunderbird where the vibration-free range is 60-80 kph, this new engine can cruise all day long in the 100-120 kph range without losing breath. More than 120 kph, it feels out of breath and it doesnt move beyond 120 kph how hard you twist the throttle.
Heat from the engine is felt a little if you are driving in a stop & go traffic. I was riding with my shorts and I could feel the heat on my calf. If you are riding with riding pants / pants, you will not feel the heat.
Abundant torque is available at the low rev range aids in city driving. Power and performance are available on tap in the entire rev range. Mid-range is punchy and the top end still has some juice left if you need that extra power to overtake (up until 120).
Chassis
This bike has an all-new chassis which is a double down tube frame replacing the single cradle unit available with the other earlier models.
The addition of a balancer shaft, translates to considerable reduction in vibrations.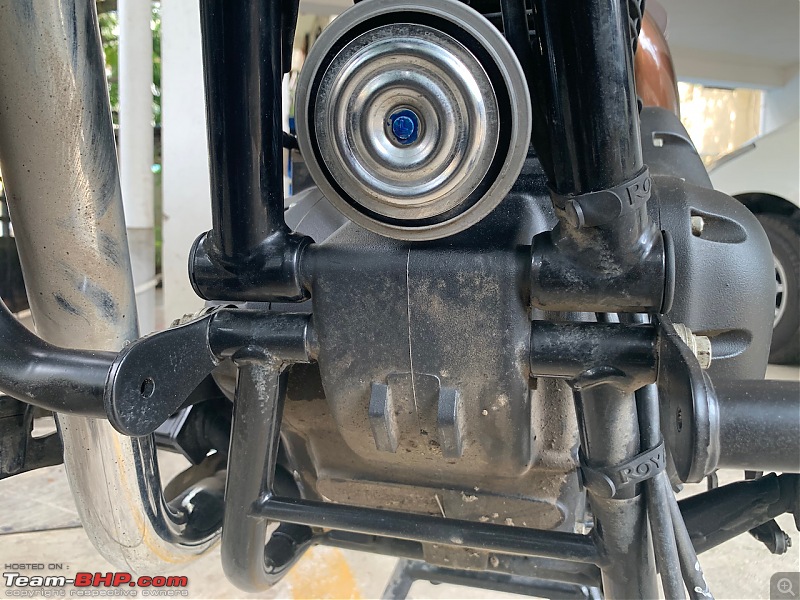 The wheelbase is now 1400 millimetres an increase of 50 millimetres from the earlier models.
The ground clearance is at a healthy 170mm which is up by 35mm
Ground Clearance in reference to a 1 ltr bottle.

The handlebar is wider which makes your life easier when you are wading through the city traffic. Wider handlebars translates to shorter turning radius. However, shorter riders (like me at 5'5″, shorter hands) would find it difficult as you have to stretch one of your hand a lot when making sharper U turns.
Suspensions
The front suspension is a telescopic 41mm forks having 130mm of travel whereas

the rear is Twin shocks with 6 step adjustable preload.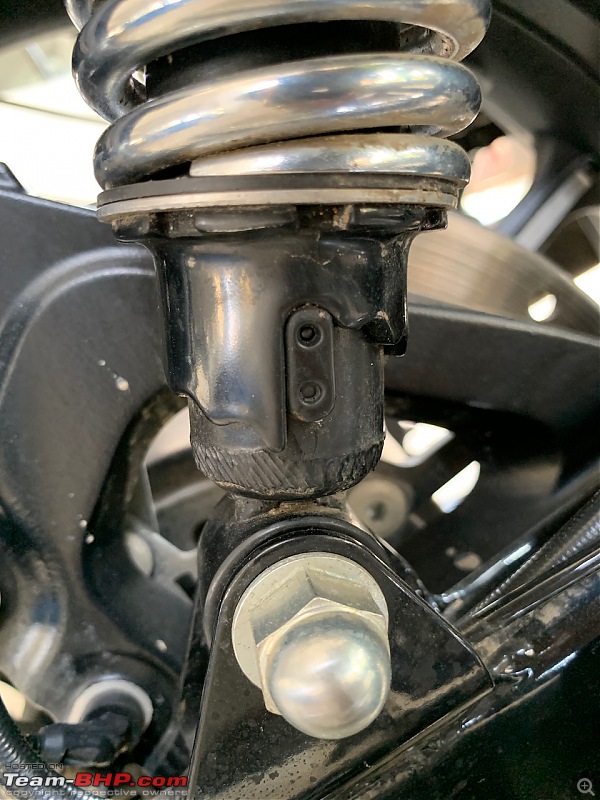 The suspensions handles most of the potholes and undulations with ease but when it comes to a bigger pot holes the suspension bottoms out if you are crossing them at high speeds.
Brakes & Tyres
The bike comes with either MRF or Ceat tyres. Mine came with Ceat branded tyres. Meteor 350 also comes with Tubeless tyres as standard.
Here is the alloy wheel design.

When it comes to brakes, they don't have that bite. The braking is progressive and needs getting used to. The bike stops where we want to and inspires confidence. The bike is available with Dual Channel ABS as standard. No, ABS is non switchable.
Front Brakes is a 300mm disc with twin piston floating caliper.

Rear Brakes is a 270mm disc with single piston floating caliper.

Front tyre is 100/90, 19 inchers tubeless and Rear tyre is 140/70 section 17 inchers tubeless radials.

Treading looks like this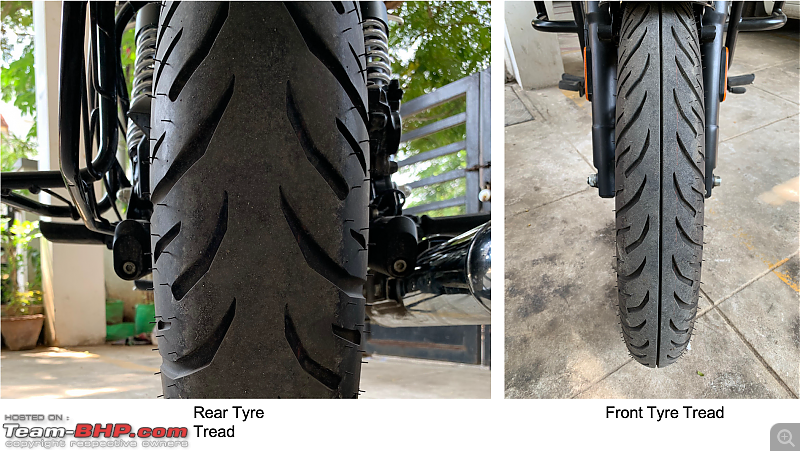 ---

Last edited by rajeshkmoorthy : 11th December 2020 at

21:48

.