Introduction to RichAds
Navigating your way through the whole path of affiliate marketing can be tricky business.
Offers come and go, networks close their doors at a second's notice, and traffic sources can go from good to bad almost overnight.
As a result, something which is usually in the forefront of the mind of any affiliate is finding reliable, high-quality, high-converting traffic sources that consistently deliver results.
But, with so many competing traffic sources to choose from, it's easy to get overwhelmed.
It's difficult to know which traffic sources have already given up their secrets and which you can use to discover untapped markets and find hidden gold.
Whether you have the perfect offer and pre-lander ready to go or not, without this cornerstone fixed in place you could pay a heavy price.
Buying traffic that fails to convert or targets an audience who has little to no interest in your offer could seriously hamper your efforts.
To help readers avoid making these costly mistakes, we're gonna take a look at a traffic source powerhouse – RichAds.
A Brief History of RichAds
RichAds is a performance marketing ad network created for affiliates, marketers, and agencies. Its founders started back in 2013 from the adtech product called platform.io which now is a white-label DSP.
In 2018, they created their own ad network RichPush, one of the leading push traffic networks. The network has now evolved to include Push, Native and Pop formats in their 2.0 platform upgrade.
This is fantastic news for affiliates who prefer to manage multiple advertising formats under the banner of just one ad platform.
The ad platform itself has had a complete overhaul, resulting in a fresh, new look and a brand new, intuitive interface that makes campaign management and revenue optimization a walk in the park.
Traffic is verified to consist of only genuine human users – and therefore remains bot-free – thanks to the team's fraud prevention and proprietary performance-driven ad tech.
So let's look at how you can get started with the platform and leverage billions of daily impressions and optimization technology (along with expert advice, and account manager support) to reach new audiences and get higher converting traffic to your offers.
This ad network has a volume of 4 Billion daily impressions in 200 countries, making it one of the highest volume ad networks in the world.
Register an account today and get a special RichAds promo code for Mobidea readers only.
RichAds Review
Exploring the Dashboard
One thing common to all formats is the campaign creation tool.
If you're new to RichAds, we recommend starting out with the Push ad format, as it is still insanely effective, especially for such verticals as Gambling, Sweepstakes, Betting, Dating, Finance, and Nutra. So you'll have no trouble finding trending offers for your campaigns.
But don't think for a minute you'll be left all alone to work things out on your own!
RichAds has a team of experienced and dedicated support agents who will get in touch to help you with your game plan.
All you'll need to do is register, giving details of your preferred messaging platform, and one of the ad experts will get in touch.
For now, go ahead and click Start Campaign.
You'll be greeted by a shiny new interface that leaves no stone unturned when it comes to targeting options.
Right at the top, you'll be able to rename your campaign to something which you find easy to identify later. All the important data about your campaigns will be displayed on your Dashboard once the campaigns are created.
You could use this as a test campaign or choose to focus on one or more audience segments.
Creatives
Add your destination URL, Headline, and Message and upload your icon and creative image for the ad.
You can add up to 10 creatives for testing and even use the auto-generator if you run out of ideas.
If at any point you are unsure if the content you are uploading may fall foul of the guidelines, click the Content policy for a comprehensive list of what is and isn't allowed on the platform.
Tracking
Add your postback URL or pixel along with your conversion type. Postback tracking allows RichAds to maximize your conversions and ad performance with Automated Rules, Micro Bidding, Target CPA, and Smart CPC.
You don't have to create the URL manually, select your tracker in the interface, and copy the ready-made link for the tracker.
The platform will work seamlessly with Voluum, RedTrack, Thrive Tracker, BeMob, FunnelFlux, AdsBridge, and other well-known trackers.
Related Content: Best Affiliate Trackers Right Now
Targeting
Select GEO (Country, plus Region and Cities), Mobile, Tablet or Desktop and fine-tune your campaign with regional and device targeting, and impressions cap.
Unique targeting by Device Manufacturer and Model is also available here. Besides, you can take a look at more Advanced Targeting options below.
RichAds Insights Tool
Want even more data?
Click on the RichAds Insights tool for CPC, CTR and Impressions reports that will help you to make informed decisions about which targeting options to use.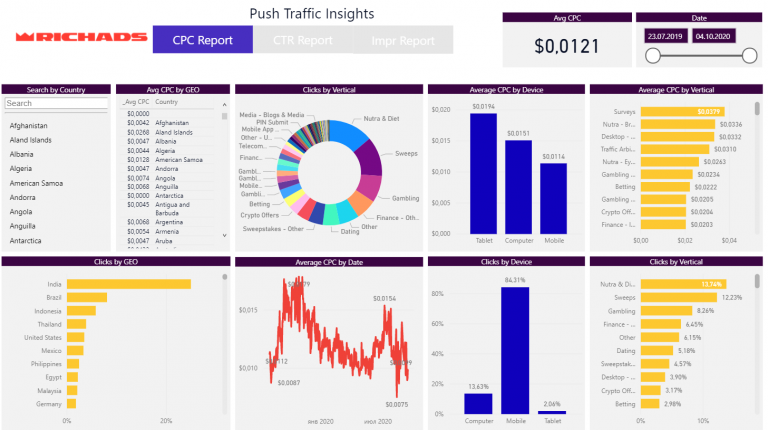 This tool shows you Average CPC by GEO, Clicks by Vertical, Clicks by GEO and Average CPC by device among other useful data.
It can be used to find info on which verticals are converting in which GEOs and finding suitable offers for specific GEOs, along with which GEOs and devices will be the most cost effective for your campaigns.
If you get stuck at any time you can watch the video tutorials provided, or look through the extensive help guides.
Also, if you want even more information on how to use this tool to best effect, make sure you read the major updates support article from RichAds.
Selecting your budget
We recommend setting up a time period of per day vs unlimited unless you know what you are doing. ASAP allows buying cheaper traffic in any possible situation when you have a winning bid as opposes to Even which spends the budget gradually.
Next select your CPC, budget and CPA goal, and voila! You have just created your first campaign. The recommended CPC is provided automatically.
You can additionally choose to optimize your bids based on conversions here using Smart CPC, depending on how much control you want to have over the campaign.
Advanced targeting options
If you really wanna get the most out of RichAds it's well worth the time to familiarize yourself with the advanced targeting options.
There's a bunch of new features that will help you compete with the pros.
While you can run your campaign without using this section, the results you can expect from using it can make a huge difference to your ROI.
Being able to control your sources and set up automated rules adds another string to your bow and is a valuable addition to the platform.
Advanced targeting
To target only the freshest users, toggle the 'New subscribers only' button to target only users who have subscribed to push notifications within the past week.
By advertising to these subscribers you can expect less volume, on the other hand the CTR and conversion rates can be much higher.
You can also target:
OS
Browser
Browser language
Connection type
Carrier targeting
IP
Tip: While this feature can be a weapon in the right hands, it's usually a good idea to opt for a higher traffic volume to start with and then optimize your campaign later, once you have the data on what's converting.
Sources
This section is a game-changer.
You can use the platform to automatically select the highest performing sources when creating your campaign.
Choose from Premium (highest converting), Standard (increase your volume), Remnant (cheaper inventory) or New Sources (added within the last 30 days), depending on your goals.
Premium sources can convert up to several times higher than average due to better placements and audience lists, so make sure you give them a try.
The software will automatically update new sources that are added unless you turn this off in the settings.
You can use the box below this space to Whitelist or Blacklist specific publisher IDs.
You can even adjust your bids for all types of targeting options using the micro bidding section.
This can be in preference to blacklisting IDs which may cut-off a considerable amount of traffic.
Add, subtract, multiply or divide your bid to stay in full control of your ad spend!
Schedule
This section adds the option to only display bids in the user's local time or by UTC.
Select your date range for your schedule or run across the whole of your campaign, and see which days and hours bring in the cash.
Automated rules
This section is extremely powerful. It enables you to apply rules to each aspect of your campaign.
First, choose the element you wanna apply the rule to – eg, publisher, subscribers list, site, creative, etc.
Next, apply the conditions to control bids, frequency caps, impressions on that element.
You can also constrain the rules to a specific time period of your choosing.
There's even several pre-existing rules you can apply to filter out expensive or non-converting publishers.
Tip: Add additional rules to manage your campaign down the granular level, but be careful not to filter out all your traffic!
Here are a couple of cases for using Automated Rules.
1. Disabling non-converting creatives
For example, this rule can be extremely useful if you run ten creatives at the same time in a push ad campaign.
If over the past 3 days:
CTR
Impressions > 2000
Conversions = 0
then
2. Changing bids for a source
In case it converts but the cost is higher than the target CPA.
If over the past 7 days:
SPEND > $12
Conversions = 1
then
Decrease bid for Publisher ID by 20%
Assistance by Account Managers
Support by RichAds can be provided during all steps of launch and optimization, for example, account managers can give you the whitelists and important tips for your offer.
Gamification of the User Profile
RichAds have found a neat way to increase user interaction with the platform by adding gamification to the user profile.
You start out as a Rookie, but can increase your rank to Professional or King, depending on your ad spend or deposit.
This will unlock hidden features in the platform such as whitelists, a personal ad expert, traffic insights, on-demand creatives and priority moderation, depending on your level.
The benefits are well thought out and correspond neatly to the use of ad-spend.
You'll also be assigned an Accountcore, which isn't just for fun. It helps you to familiarise yourself with all aspects of the platform and links to help articles on how to get the most out of the RichAds experience.
Native, Pop and Display Ad Formats
So far we've looked at Push ads campaign creation tools. You can also select native, pop and display (currently in closed beta) traffic for your campaigns.
For those new to these ad formats, here's a quick summary:
Native – Native ads are non-intrusive banners that blend into the surrounding content on a webpage. They have high CTRs and user engagement levels.
Pop – Pop traffic is typically displayed as a new tab that appears under a previously visited page. They do not interrupt the user experience and appear only when a user closes the main window.
Push – Push ads are notifications that can be displayed on both mobile and desktop. Users will receive a personalised alert whenever the advertiser sends a new message or updates their content.
Push ads have 100% visibility and the highest CTR.
With RichAds, while most aspects of the campaign creation tool stay the same, irrespective of the ad format, you'll notice some differences unique to each.
These are mostly in the way the creative is set-up and the cost model for the budget.
For Push it's CPC, for Pop CPM and Native is also CPM.
So while you can't simply copy over a campaign to a new ad format, the ease with which you can set up a new campaign makes this the next best thing.
This makes scaling campaigns a breeze using multiple ad formats.
The beauty of the RichAds platform is that the proprietary ad tech and advanced algorithm work the same way across all ad formats to give you the best performing traffic for your campaign.
It would also be nice to have the option to create a new campaign from a saved template in future iterations of the platform.
When launching your Native Ad campaign, you can even check the predicted performance ahead of time by viewing the number of clicks and their cost in your account.
The predictions are made automatically according to your GEO, CPM, and Technology targeting options.
Different ad formats tend to work better than others for some verticals.
RichAds suggest the following verticals by ad format:
Push:
Nutra
Sweepstakes
Betting
Dating
Finance
Gambling
Pops:
Best categories
Dating
Gambling
Betting
Adult
Apps & utilities
Sweepstakes
Native:
Best categories
Games
Finance & insurance
Gambling
Nutra
Education
Software
While you don't have to stick to these verticals, they're generally a good indication of the types of high converting publisher traffic you can expect in each category.
Optimizing your campaign
RichAds is a revenue-focused ad platform that uses intuitive auto-optimization to drive results.
This means, among other things, that they only show ads which are relevant to the user and use premium traffic sources.
Not only does this save time but it also improves your efficiency. You can use the built in rules to manage your campaigns or speak to a campaign manager about custom whitelists for your ad campaign.
This makes it easy to only target the sources which are performing well for you, while blacklisting those that don't, manage your bids, and focus on creatives with a high CTR.
Reporting
RichAds reporting tool makes it easy to see at a glance how your campaigns are performing.
This is important if you wanna make informed decisions while optimizing your campaigns.

Like the campaign creation tool, the reporting platform for RichAds is intuitive, easy-to-use, and packed full of useful features that will turn you into a pro analyst in a jiffy!
RichAds includes the following columns in the reporting section – giving users a comprehensive overview of their performance on the platform:
Segment
Bids
Winrate
Impressions
CTR
Clicks
CPC, $
Conv. rate
Conv.
C1
C2
C3
C4
Cost per conv., $
Spend, $
You can also apply filters and segmentation to your reports pertaining to specific campaigns, creatives and other targeting options, and display these over any given time period.
This provides a complete breakdown of your performance stats and makes it easy to identify which areas need your attention.
Used in connection with your tracker, you'll find the reporting tool to be a valuable resource for optimizing your campaigns.
Tip: Focus on reducing ad spend for low performing traffic sources with a high cost per conversion and increase bids for ads with a high CTR and conversion rate.
Billing
RichAds – and by extension RichPush, RichNative and RichPops – has a relatively low barrier to entry, with a minimum deposit of just $100.
This will gain you access to all the standard features of the platform, including pro support from the team who can assist you with whitelists, creatives, setting up custom rules, optimization tips, and industry inside info.
Payment can be deposited via Credit / Debit card, WebMoney, Wire transfer, and Paxum, with more payment options expected to arrive in the near future.
There is also a minimum daily payment threshold of $25 which you may want to factor into your budget estimates.
New Features Coming to RichAds
It's always refreshing to see an ad network that is focused on breaking new boundaries.
RichAds goes beyond what you might expect from most ad networks and has a host of new features planned including, RichClub Specials, International conferences, parties and meet-ups for free, and promises special gifts and surprises from the team.
You'll even be able to earn RichPoints which should land you some sweet benefits, should you stick with the platform. This is in addition to the existing bonuses offered by the platform to all users, featuring substantial discounts to well known related services, such as forums, tracers and affiliate networks.
We also like the RichAds blog content and RichAds Academy – both of which are committed to coaching affiliates and helping them to succeed with some of the best educational materials around.
Plus, if you have any suggestions for the team – such as allowing crypto as a payment method or custom reporting timezones – you can choose the Request Feature tab to make your voice heard.
Summary
There's no doubt that RichAds is a top-tier ad network that offers some neat features for performance marketers, especially for scaling due to huge volumes, advanced automated rules, and personal support.
The recent update will appeal to advertisers who work with Push, Pops or Native traffic, and a large number of high converting publishers and choice of targeting options is a welcome addition to the platform.
Affiliates who tend to work with one ad format can use the platform to scale into other markets, or simply choose to focus on the top-performing verticals in any given format.
It's this versatility and scalability which makes RichAds such a breath of fresh air.
With an intuitive and easy-to-use interface – combined with many unique features, such as fraud protection, and automated rules – RichAds is likely to continue to grow as a network and will appeal to new and experienced affiliates alike
With many additional features still to be added, there are lots to be excited about, and RichAds is well on its way to becoming the leading performance ad network of its kind.
Check them out here.
RichAds Verdict
Pros
Huge volume;
Good performance;
Great product features like Automated Rules & Microbidding;
Simple and fresh UI.
Cons
Can't block sources from the reporting tab;
Can't launch multi-geo pop campaigns.
Tags:
Affiliate Industry